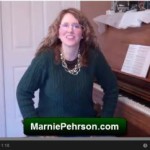 Share
If you're following my Crazy Christmas Challenge, you've heard me sing (on my blog) and seen me dance (on FaceBook). Today I'm going to play and let YOU sing along… Take a Crazy Christmas break and join me for 1 minute of festive fun!
Check out my Crazy Christmas Blowout before it all ends December 21, 2013
About
Marnie Pehrson
Are you a Light Bearer? Take the FREE Light Bearer Assessment. It's a quick and easy way to find out where you are in the Light Bearer Process... Marnie Pehrson is a best-selling author, speaker, certified SimplyHealedTM practitioner, platform builder and publishing coach who shows you how to ignite the WOW-Factor in your life and business through the power of synergistic relationships and collaboration. To find out more about working with Marnie, click here.