Someone recently accused me of lacking integrity because I have offered various products and services over the last 3 years. She saw my offers as disjointed and unconnected. Of course, I see the connection, but she doesn't.
Just to give you a little backstory …
When I lost my multi-six figure business literally overnight due to Google changes, I was left to reinvent myself. To be honest, I wasn't exactly sure what that was supposed to look like. I doubt there are many people whose careers became obsolete overnight who immediately assess a market and instantly create a thriving new business.
Over the last three year…
Bottom line, this person who sent me a critical email accused me of lacking integrity because I have offered this variety of services and products over the last three years. She accused me of "doing anything to make a buck."
I am totally aware that I've been tweaking and adapting.  I know that when you aren't clear about what you offer, there's no way for your prospective clients to figure out what you're offering.
The fact this person couldn't see the connection in my offerings hit a nerve with my own fears and frustrations with the process of tweaking and adapting to find what people need.
I'd been pushing that fear down and ignoring it, but this person forced it to the surface. I'm publicly thanking this person for her criticism because it allowed me to address something important that could be sabotaging my success.
I think you may have experienced similar feelings about yourself. When you put yourself out there (or are thinking of doing so), it's rare to succeed right out of the box.
It's easy to let those inner voices (and perhaps outer ones) tell you that you are a fraud or that you are a flake because you have to try so many things to find what works. Or maybe you're concerned you will come across as lacking integrity because you have so many different interests and are good at a variety of things.
I want to assure you that you are not a flake or a fraud. If you're like most of my readers or clients, you are highly creative. You possess diverse talents. You could go in a lot of directions successfully.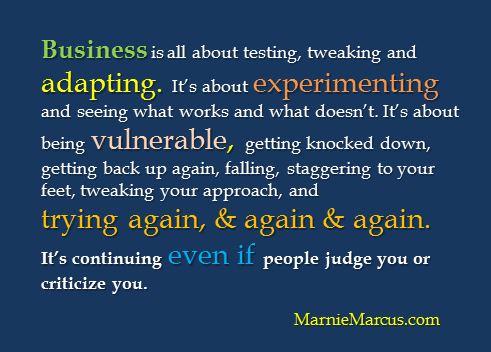 Business is all about testing, tweaking and adapting. It's about experimenting and seeing what works and what doesn't. It's about being vulnerable, getting knocked down, getting back up again, falling, staggering to your feet, tweaking your approach, and trying it again, and again and again. It's continuing even if people judge you or criticize you.
Yes, there will be naysayers or people who want to pull you down like crabs in a bucket. Crabs latch onto any fellow-crab who is about to escape to freedom. People who are too scared to try are all too eager to pull you down.
Don't listen to them! Don't listen to that voice in your head that's telling you that what you have isn't good enough, or isn't complete enough, or that you can't get up one more time. Never say die. Even Edison had to try a thousand variations before he got a light bulb that worked.
When you do find your winning light bulb creation, people will most likely call you an overnight success. They rarely see all the failures, persistence, adaptation, and determination it took for you to wade through a thousand "mistakes" to find your winning combination.
In the meantime, remember you and your gifts are valuable. If you have to put your various talents out there in assorted ways to earn a living for your family, don't let anyone tell you that you are anything but a hero for doing so. Don't let anyone tell you that your talents aren't worth the money customers pay to benefit from them.
In my experience, nothing is wasted. It all comes together in a beautifully orchestrated symphony that brings help and healing to those you are here to serve.
Marnie (Pehrson) Marcus is a best-selling author, marketing and social media consultant and product creation specialist who shows you how to transform your knowledge and expertise into books & digital products and create an online platform. Get a FREE 20-minute strategy session with Marnie here.