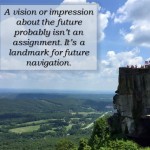 While my last blog entry cautioned against becoming a "spiritual junkie" who expects a constant stream of visions, insights and revelations, I also believe in documenting what is coming to you. There are some seasons of our lives when we receive more inspiration than others.
Let me give you an example. As I was going through the divorce, I spent a lot of time praying, fasting, meditating and really seeking to know and do God's will. It was a big decision … one that violated a lot of my core values. I wanted to make sure I was doing the right thing in choosing it.
Along the way, I received some important messages about my future. I saw certain things that were coming. Some of them happened fairly quickly. Others were out in the future.
For example, about 2.5 years ago when my business took a major hit as I let my money-making Web site go, I was meditating. I had this visual come to me.
I leapt off a cliff and was in a free-fall for quite a while. I wondered if I would crash, but didn't hit bottom. God's hand caught me and delivered me to the top of another cliff. There was a man standing there… the man I knew God had in mind for me.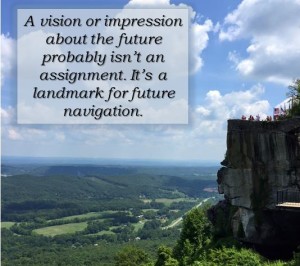 Last week, as I was looking at the image of Lover's Leap on my personal Facebook page, I realized my fiancé proposed to me at the top of a cliff!
When the visual came, I assumed it was completely metaphorical. I certainly did go into a long free-fall and wondered if I might splat in more ways than one. Interestingly enough the visual was both symbolic and literal.
Remembering this made me go back and read my journal entries. There are some things in my journal that I realize now I misinterpreted. Some have happened. Others seem highly improbable.
While reading one entry from my journal a couple days ago, I thought, "That's probably not going to happen. Maybe it was my imagination kicking in." Then I remembered the Lover's Leap moment and how I did not orchestrate that at all. It was never my job to orchestrate it.
What if none of the impressions I receive are mine to orchestrate or "make happen?"
Here's what I'm coming to believe. Let's say you catch the vision of something that feels incredibly inspired. You feel it in your bones, it's meaningful and significant. Okay, great.
A vision or dream about the future (unless accompanied by a strong impression to do something specific) is not an assignment. It is not your job to force the vision to happen. Look at impressions about the future as someone sharing landmarks to look for on a road trip.
If I give someone directions to my house, I'll say something like, "Look for the two green mail boxes and the gravel road." Is it the traveler's responsibility to create the two green mail boxes and the gravel road? Of course not! The traveler simply looks for them. The mailbox and gravel road are markers that let the person know they are on course. They signify a turning point.
I am a "get it done" visionary. I can leap to a lot of wrong conclusions and try to make things happen. It's incredibly easy for me to try to force the vision. I often make it an assignment. But I'm beginning to believe these are not assignments. They are simply landmarks to look for on my journey. They may signify turning points. Or they may help me recognize that I'm on course. But it's not my assignment to manufacture them any more than a visitor to my home needs to manufacture the two green mail boxes and the gravel road.
Can Forcing a Vision Mess Things Up?
One could say my drive to find the man at the top of the cliff actually got in my way. I went out in search of him, keeping myself involved with different men across the U.S.
All the while the man God had in mind for me was 5 minutes away at my son's middle school. I passed him as he directed traffic every schoolday, never knowing he was asking about me, always being told by his mom "she's dating someone."
So, a case could be made that I delayed matters by turning the vision into an assignment.
Another case could be made for it all happening as it should have. There were experiences and lessons I needed along the way that enabled me to fully appreciate the man God had in mind.
Bottom line, God knew he was working with "get it done Marnie." He knew how I would react, the people I'd meet and where I'd end up. He knew I'd get there eventually.
This experience has given me more hope that no matter how I wander around and feel lost, God's got the vision. He'll get me there.
Marnie (Pehrson) Marcus is a best-selling author, speaker, certified SimplyHealedTM practitioner, and product creation specialist who shows you how to transform your knowledge and expertise into books, virtual products and online platform. Find out how you can work with Marnie here. Let the past go and make 2015 your best year yet! Get an Energy QuickShift.