When I was young, my brother (who was quite the perfectionist) referred to me as "good enough, Marnie" because I would do the best I could and then say, "Well, that's good enough." He called me, "Good enough Marnie" with just enough derision to let me know he felt I had fallen short of perfection in his mind.
I told one of my friends this story years ago and forgot I'd even mentioned it to her. A couple nights ago, she sent me a video of her cute little grandson (perhaps 4-5 years old) playing with his racetrack.
He moved some cars along the track and then said, "Good enough, Marnie." His grandfather asked him to repeat it for clarification.
My friend explained, "Your legacy lives on in our family." I had no idea and wasn't too thrilled that my legacy would mean doing a slop job (the meaning my brother attached to that phrase).
What I didn't know is that this phrase became "the phrase" her family uses when they feel they've done as much as they know to do and just can't do anymore. She explained, "It's like a respite from guilt and pressure!"
Isn't it interesting how 3 words can mean something derogatory to one person and something hopeful to another. It's all in our perspectives.
After she explained how her family uses the phrase, I felt quite honored. I honestly believe there comes a point where we've done all we know to do and we have to just relax, let go of the outcome, and trust that things will work out.
Beating ourselves up over that last ounce of perfection simply isn't worth it. It makes us feel bad, keeps us from moving forward, and keeps us from accomplishing other more important things in life.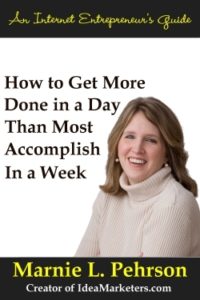 In fact, I would say letting go of perfectionism is one of my best pieces of advice for getting more done in less time.
For more of my secrets on how to get more done in a day than most accomplish in a week, click here.
Featured Image Copyright: Kasia Bialasiewicz / BigStockPhoto.com
Marnie Pehrson is a best-selling author and marketing and social media consultant specializing in digital content creation and Facebook Ad Management. Get a FREE 20-minute strategy session with Marnie here.