One of the most common issues that come up for my energy therapy clients are feelings of unworthiness. Many of us feel unworthy of the abundance, blessings and desires of our hearts. Because we feel unworthy, we actually block our ability to receive good things.
Perhaps the reason why almost everyone feels unworthy is because while others do not hear our innermost thoughts or see our private actions, we do. We know our own flaws. We are intimately acquainted with our weaknesses and imperfections. Many keep a running list of all the mistakes they've made.
The thing is… EVERYONE is imperfect, weak and makes mistakes. I don't care if you take the most perfect person you've ever met, that person still has his or her flaws. They have some skeleton they'd rather not let out of the closet. If we all waited around to be perfect until we were worthy to step up and do what we're here to do, nothing would get done.
Yet we let feelings of unworthiness keep us from…
Calling upon God for help.
Believing that we'll get help with our financial situations, relationships, careers, etc.
Stepping out and doing what we feel we're here to do.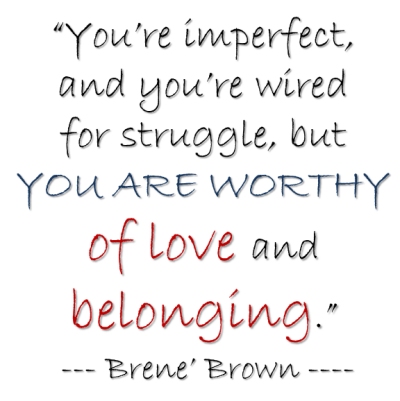 You are worthy. You're a child of God. It's one of the most insidious lies that has ever been fed to humanity that you aren't worthy of His provision, that you are not worthy of His love, or that you are unworthy of His ear or His aid.
If you feel like you have areas you could improve and you have no idea how you'd ever be able to do so, a desire for the desire is enough. Tell God you'd like to have a greater desire to "do the right thing" in that area. He will help you. He won't condemn you.
Come to Him, be honest with Him … even about your feelings of frustration and lack of trust in Him. Be honest with Him about the areas of your life that are out of alignment with His laws. Tell Him how hard it is for you to change or act differently. Ask for His help (even if there's a part of you that doesn't want it). He will not fail you.
You may not instantaneously develop willpower of steel or perfect thoughts and actions, but He will guide you toward better, more balanced choices. Be patient with yourself and celebrate small improvements.
I believe one of the keys to improving ourselves and our situations is understanding we are worthy to pray and get answers. We're worthy to receive and expect God's help. He isn't punishing you for your bad choices. What is BLOCKING good things from coming to you is your inability to receive because you've cut yourself off from Him through feelings of unworthiness.
If you question your worthiness, try acting as if you are worthy. You will be amazed at how your choices improve and how things start to flow toward you.
Affirmations that may be helpful:
I am a child of God and worthy of His love, belonging and aid.
I am worthy and deserving of God's abundance.
I am worthy and deserving to receive God's help with my (financial situation, relationships, children, career, business, etc.)
I call upon God and He hears and answers me.
I release guilt and shame over past mistakes.
I learn from my mistakes, and they make me a better person.
I forgive myself for any choices that have been less than ideal.
I trust God to guide me in making optimal choices.
I am open to hearing God's voice.
I am worthy and deserving of God answering my prayers.
God is always opening doors that lead me to better places. I am open to seeing and walking through them.
My grace is sufficient for thee: for my strength is made perfect in weakness. Most gladly therefore will I rather glory in my infirmities, that the power of Christ may rest upon me." (2 Corinthians 12:9)

Marnie Pehrson is a best-selling author and marketing and social media consultant specializing in digital content creation and Facebook Ad Management. Get a FREE 20-minute strategy session with Marnie here.