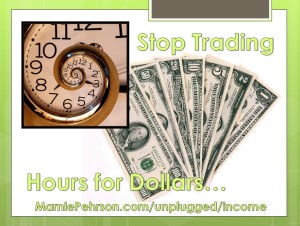 Are you ready to stop trading hours for dollars and leverage your influence to more people? Would you like to create more revenue streams without taking personal time away from your family?
In my Free Video Training, "How to Create a Product in a Week OR Less" I talk about the system I use for creating programs fast. It's a duplicatable system you can use over and over again for all your future programs and products.
I do want to say though, that not everyone is ready to do something like this. At the 22:34 minute mark in my video I ask you a series of questions to help you determine if you're ready to leverage your knowledge into programs and products.
How would you answer the following questions? Or could you answer the following questions:
1) "I help people solve what problem?" What problem do people struggle with that you can solve? You may help people solve multiple problems, but could you pick one?
2) "Who do I help?" Describe this person in as much detail as you can.
3) "I help them by teaching them what?" Could you break it down into three steps or points?
4) "And here are the results they get…" What kind of results do people get from working with you?
5) Name 1-3 people you have helped who have received positive results from working with you.
If you can answer those questions, you're ready for my system of creating products in a week or less.
If you can't answer those questions, here's a little homework you can do to get ready to leverage your influence through my duplicatable product creation system.
1) Start a Focus Group – think of 2-5 people who fit the audience you'd like to work with.
2) Take Your Focus Group through the Process - Invite the list of people to participate in your training. You might put them in a group and help them together in 1-3 phone calls. If you'd rather, you can work with them one-on-one. It doesn't have to be as a group format. Offer participants your training in exchange for them giving you feedback and testimonials (assuming they benefit from working with you).
3) Give participants an assessment before you work with them. This is as simple as several questions asking them to rate themselves on a scale of 1-5 in different areas that relate to the problem you intend to solve.
4) Give participants the same assessment again at the end of the training to see how they improved.
5) Document the process. Record your calls. Hang onto any handouts or items you create for them.
6) Ask for testimonials.
Now you have a process. You know whether it works and you hopefully have some glowing testimonials you can use.
Once you've done this (or something similar to it), you're ready to offer training programs that can be resold as a product. To learn more about How to Create a Product in a Week Or Less, get my Free Video Training here.
If you've already watched the video training and want to get started, go here. Btw, in the video training, I offer bonuses to the first 10 people who enroll. At this point there are 7 of these spots left.
Again, those bonuses are:
1) I will conduct a Google Hangout On Air with you. I'll interview you about your expertise and product.  I'll promote the hangout to my social media lists. I'll record it and provide the video complete with captions inserted to direct people to your sales page. You can use the video
on social media,
on your blog,
as an irresistible free offer to get people on your list.
I'd also be happy to strip the audio for you and you can use it as a podcast.
2) Your Webinar Hosted on GoToMeeting. My friend Donna Blevins has graciously offered to host your preview Webinar on her GoToMeeting account.
Again these two bonuses only go to the first 10 people who enroll. At this moment, there are 7 spots still available. Click here to grab your spot.
Get Marnie's FREE audio on how to bust through fear to a vibrant, happy life. Click here to get your copy.