Regina Reiter of ForgivenessWalks.com asked me this question in a Facebook group she runs, "Marnie also taught me about collaboration. Marnie, can you share something with us about the Principle of Love in collaboration?"
I love this question! Here's my best attempt to explain in words the feelings I have about "quantum collaboration."
In my experience, collaboration only "pops" synergistically when we first love ourselves and are grateful for the gifts and contribution we bring.
Competition Vs. Collaboration
Collaboration is the opposite of competition. With competition, someone tends to get torn down or "loses," whereas collaboration builds everyone and everything up.
Competition often happens because we see what we bring as insufficient or "less than." We're comparing and competing for a limited piece of pie. It often brings with it jealousy, animosity, ill-feelings (doesn't have to, but it can).
Intrinsically there's probably nothing wrong with competition … for example, in sports the drive to excel creates better performances. In business it can help create better products/services.
I look at collaboration as a "higher law" and competition as a lower one. Sort of how the law of Moses for ancient Israel was comprised of very nit-picky rules, and Jesus came in and encapsulated it all with, "Love God and love your neighbor as yourself."
When love is present, everything falls into place, grows and flourishes. When true collaboration takes place everyone wins.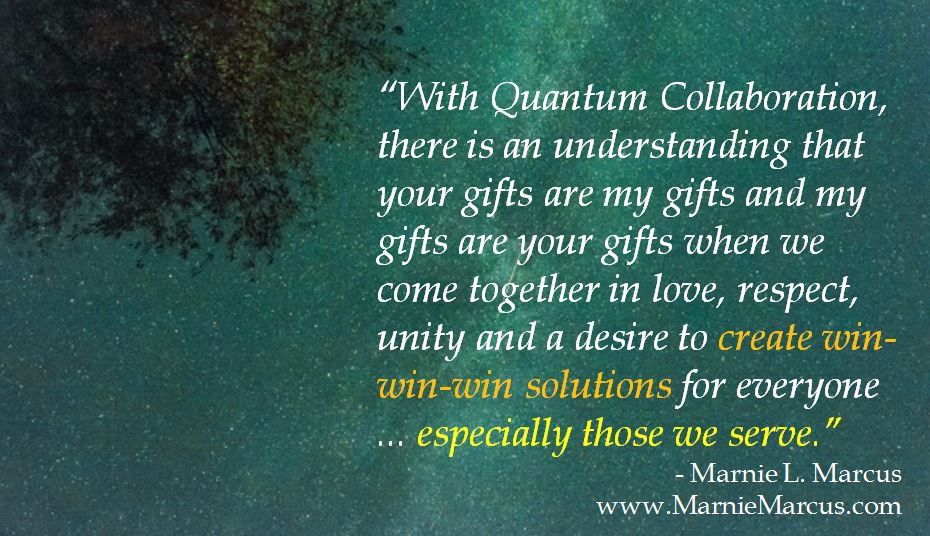 Quantum collaboration occurs when genuine love for ourselves is present and an acknowledgement, appreciation and valuing of the beauty and brilliance of everyone else at the table. It's an understanding that your gifts are my gifts and my gifts are your gifts when we come together in love, unity and a desire to create win-win solutions for everyone … especially those we serve.
It's like a symphony. The flutist isn't resentful she's not the cellist. The musician who plays the trumpet isn't upset that he's not playing the clarinet. "It's like a symphony just keep listening and pretty soon you'll start to figure out your part.  Everyone plays a piece and there are melodies in each one of us, oh, it's glorious" (from Glorious, performed by David Archuleta)
Marnie (Pehrson) Marcus is a best-selling author, speaker, certified SimplyHealedTM practitioner, and product creation specialist who shows you how to transform your knowledge and expertise into books, virtual products and online platform. Find out how you can work with Marnie here. Let the past go and make 2016 your best year yet! Get an Energy QuickShift.