I'm listening to Cathy Freeman's GLOW Celebration today and she read this wonderful quote. It really makes you stop and think about what you're radiating out to others and the world:
"There is one responsibility which no man can evade; that responsibility is his personal influence. Man's unconscious influence is the silent, subtle radiation of personality — the effect of his words and his actions on others. This radiation is tremendous.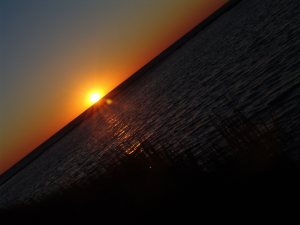 "Every moment of life man is changing, to a degree, the life of the whole world. Every man has an atmosphere which is affecting every other man. He cannot escape for one moment from this radiation of his character, this constant weakening or strengthening of others. Man cannot evade the responsibility by merely saying that it is an unconscious influence.
"Man can select the qualities he would permit to be radiated. He can cultivate sweetness, calmness, trust, generosity, truth, justice, loyalty, nobility, and make them vitally active in his character. And by these qualities he will constantly affect the world.
"This radiation, to which I refer, comes from what a person really is, not from what he pretends to be. Every man by his mere living is radiating either sympathy, sorrow, morbidness, cynicism, or happiness and hope or any one of a hundred other qualities. Life is a state of radiation and absorption. To exist is to radiate; to exist is to be the recipient of radiation." (David O. McKay, April 1948)
"Every man and every person who lives in this world wields an influence whether for good or for evil. It is not what he says alone; it is not alone what he does. It is what he is. Every man, every person radiates what he or she really is. Every person is a recipient of radiation.
"The Savior was conscious of that. Whenever He came into the presence of an individual, He sensed that radiation — whether it was the woman of Samaria with her past life; whether it was the woman who was to be stoned, or the men who were to stone her; whether it was the statesman, Nicodemus, or one of the lepers. He was conscious of the radiation from the individual. And to a degree so are you, and so am I.
"It is what we are and what we radiate that affects the people around us. As individuals, we must think nobler thoughts. We must not encourage vile thoughts or low aspirations. We shall radiate them if we do. If we think noble thoughts; if we encourage and cherish noble aspirations, there will be that radiation when we meet people, especially when we associate with them." (David O. McKay, 1964)
Marnie Pehrson is a best-selling author and marketing and social media consultant specializing in digital content creation and Facebook Ad Management. Get a FREE 20-minute strategy session with Marnie here.