Share
My mother had me taking piano lessons when I was 5. I kept going until I turned 17 and broke my arm in a car wreck. In all that time, I never played anything but what was written on the page. In fact, if I misplayed a single note, my piano teacher would correct me.
Perhaps her voice in my head, telling me to play it exactly as it was written, was part of the reason I never cut lose and tried to create anything on my own. I knew I didn't have much of an ear and didn't believe I had the creativity to write anything myself.
About three years ago, I studied up on chords and began embellishing a little with hymns. I wrote a couple hymn arrangements. But still I wasn't willing to try to play anything out of my own head (or heart).
In the last few months something's shifted, and I enjoy just sitting down without any music in front of me and making up whatever comes.
Tonight I turned on the recorder and played. This is what came. It's not polished and I'm sure a professional would laugh at the immaturity of the composition, but for me it was a breakthrough to trust myself enough to just play, record it and put it out there.
I set the music with some photos I've taken over the last year around Northwest Georgia, most of them in Catoosa County. I call it "Seasons of Solitude."
What have you always wanted to do but didn't have the guts to try? Your turn!

Share
I love what my friend Eileen Voyles is doing to build future entrepreneurs of America at Hungry Howie's Pizza in Chattanooga, Tennessee. She's offering "future business owner" field trips to local schools. This was so well planned and inspiring. You really need to check into it for your child's school if you live in the Chattanooga / Northwest Georgia area.
Eileen had this video made from the footage she asked me to take last week. It's so fun to see it all brought together here!
Way to go Eileen! Keep up the great work! Entrepreneurial-ism will save the U.S.A!
Share
Everything in life is about relationships. What type of relationship do you have with money? If money were a person, how would s/he be treating you? What kind of characteristics would it have? For those struggling with money, this might be how they'd describe their "Money Person":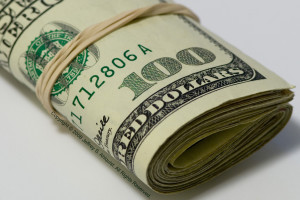 Stingy Unreliable Inconsistent Likes to make me wait Goes where it wants and not where I want it to. Likes to make me suffer Is stopped up Disconnected Fleeting Disrespects me Doesn't value me Doesn't believe in me Lets me down
What other adjectives would you use to describe money as a person? If you have more negative ones, write those down.
Now that we have a negative list of money and his attributes, let's flip those around to what we'd LIKE our money person to be like and how we'd like our money person to treat us.
Generous Reliable Consistent Timely and arrives early Goes where I want it to go. Likes to make me feel good and see me happy Flows abundantly Consistently connected fully to me Respects me Values me Believes in me Supports me and Is always there for me.
From this point forward when you're prone to talk or think negatively about money, stop yourself and think about this new "money person" you've created who is generous, reliable, consistent, timely, etc.
How will you think, feel and treat a person who treated you in this new, more desirable way? Might you give it more respect, more value, more trust, more positive expectations?
Change your thinking, change your life!
Share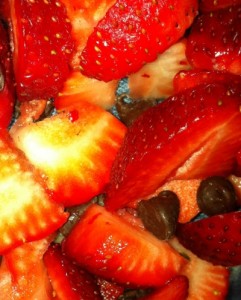 Here's one of my favorite snacks to eat when my sweet tooth gets going. It's delicious, nutritious and doesn't stack on the pounds (unless you eat mounds of it).
3-4 large fresh strawberries (diced)
1 TBSP dark chocolate chips or some other diced dark chocolate
Mix and eat.
Eating healthy and finding your ideal weight doesn't have to be a white-knuckled nightmare. Shift your thinking and energy around achieving your ideal weight, add in some simple lifestyle changes and you can be looking and feeling great too.
Join me for my next workshop: Create Your Amazing Body – Look and Feel Fantastic,
Share
Are you like I was? In the past I was bad about grabbing a snack or a handful of chocolate chips with peanut butter when I was busy throughout the day. Not the best way to keep your girlish figure or rediscover it if it's gone!
Here's a fast, healthy alternative I like to use now…
Quick and Easy Healthy Taco Salad
I buy those plastic containers of salad at SAMS, Costco or the grocery store. They tend to keep better than the plastic bags. Then one night while I'm cooking dinner, I'll fry some extra Turkey Burger and add some of my favorite taco seasoning. I let that cool and put it in a plastic bag in my refrigerator.
Then when I want a quick lunch, I'll …
Heat some of the taco meat in the microwave.
Put some salad mix in a bowl
Add some diced tomatoes
Perhaps add some salsa
A squirt or two of low-fat Ranch dressing (optional)
and then top it with the taco meat.
Heck, I even add a little grated cheddar cheese.
I know the cheese and ranch aren't "diet"… but I never dieted to lose weight anyway! Just remember to use them in moderation.
Find out how I lost 46 pounds by shifting my energy & mindset and making simple lifestyle changes… no dieting. Get my free audio, "How to Create Your Amazing Body" here.
Share
Did you know you can reach your exact audience with Facebook? I'm talking down to zip codes, religious affiliations, the magazines they read, age, gender, hobbies, just about anything… you name it!
The great thing is you can decide the results you want. For example, do you want more visitors to your web site? More Likes to your Facebook Page? More people signing up for your list? All of these are possible.
Now, how much do you want to spend? You can spend as little as a $1 per day on advertising. I've gotten click-through's to web sites down as low as 10 cents per click (although the average is probably around $.30-.40 per click. I've seen Likes as low as $.17/Like, although they can go higher or could be lower. It really all depends upon the audience you're trying to reach and the response rate of the ad you're running. The great thing is you can set your budget and know ahead of time the ball park of what you'll be paying per action. You can also tweak and adjust your ad or your audience at any point in the process.
Here's what one of my clients had to say. We consulted together on their objectives and crafted an advertising strategy, objective and budget that met their needs.
"I want to thank you for your help with our Facebook ad campaign. We met our goals and spent less than originally estimated. I wanted to let you know how pleased I am with everything! You are good at what you do, and I am glad to have your help! Sure makes a difference when somebody actually knows what they are doing!"

- Deseret Ward, Political Campaign Manager
I've been doing online advertising since 1998. As the creator of one of the largest and longest-running content directories, I was on the "publisher" side of the equation. I ran ads that generated five figures each month and learned an immense amount about what makes a successful ad campaign. It's all about maximizing results for your advertising budget. I can quickly identify what you need in place BEFORE you run ads to drive traffic. Without these elements in place, you're just throwing your money down the toilet!
I bring my years of online marketing and advertising experience to the table with my social media clients, helping them get the best results from their campaigns at the best rate possible.
Whether you only want help with your ad campaigns or you want to beef up your social media engagement, I have a plan that will work for you and your budget.
Share
Rather Listen than Read?
Therefore if any man be in Christ, he is a new creature: old things are passed away; behold, all things are become new." 2 Corinthians 5:17
In the Light Bearer process, there is a phase I call "Transparency" that is akin to a caterpillar entering a cocoon and emerging as an entirely new creature. This phase is right before the "Shining" phase. Did you know that a caterpillar completely liquefies inside the cocoon? Everything is annihilated and becomes different. Every cell is changed and what emerges is nothing like what entered that dark place.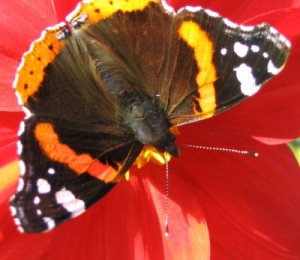 I spent about eighteen months going through this process. I lost my business, my marriage, and went through a great deal of stress related to my children. As I felt myself emerging from the cocoon, I wondered, "What in the world am I now?" It really did feel like old things were passed away and all things had become new.
Does the caterpillar know it's a butterfly when it emerges? Does it still try to function as a caterpillar for a while? Or is its brain even rewired to know it is a butterfly? I'm not sure we as humans find it as easy to let go of the past, of who we used to be. I think we sit perplexed for a while wondering, "What are these things that look like wings?" (as Julie de Azevedo Hanks wrote in her song "Wings")
I entered the cocoon and emerged as a foreign creature. I didn't know who I was or what function I served. Was I still the same Marnie? Or someone entirely different? I constantly kept asking God to tell me what this new life entailed. What was my life supposed to look like as a single mother? How was my business supposed to look?
I ended up extremely confused. I kept waiting for someone to come along and tell me what I was. Or I found myself morphing into being like whoever I was with. Neither of these choices proved successful. It finally occurred to me that maybe this new creature is whoever I decide she is. What if I'd been waiting for life, nature, God or someone else to tell me who and what I am, but it was up to me to decide?
What if I am whoever I decide I am? The question then is "Who do I want to be? The psalmist wrote:
"Delight thyself also in the Lord; and he shall give thee the desires of thine heart." Psalms 37:4
If my desire is to be who God wants me to be, then perhaps who I desire to be is who He wants me to be. What if I already know – just as the butterfly knows she's a butterfly without some external influence having to tell her? I took out a pen and paper and started writing whatever came to mind first.
Who I Choose to Be
• I am a daughter of God who serves and lifts those around her.
• I am a seeker of truth who makes truth an integral part of my life and personality, thus enabling me to share that truth with others.
• I am a woman who builds others up, helping them be the best they can be as I continue to develop my own mind, body, personality and gifts for the benefit and use of my God, family, country and fellowman.
• I am a spiritual creator. I decide and the spiritual and natural worlds move into creation.
• I am a woman of vitality, life and beauty.
• I am a beacon of hope, a fortress of strength, a light in an ever-darkening world.
• I am a friend, a lover and confidant.
• I am a healer, a liberator, a clarion call of truth and freedom.
• I am free, I am confident, I am whole.
• I am love.
• I am beautiful and radiant.
• I am solid and true
• I am spontaneous and fun.
• I am nature loving and flexible.
• I am resilient and determined.
• I am peace and I am calm.
• I am divine, a human articulation of the feminine side of God.
• I am someone who heals whatever and whoever she touches. I leave everything better for having interacted with it.
• I am a pioneer, an innovator, a creator.
• I make the difficult simple.
• I make the overwhelming doable.
• I inspire.
• I teach.
• I model.
• I believe in God, myself and you.
• I am a conduit of abundance, light and truth.
• This is who I am and who I choose to be.
Who do you choose to be? What if you're supposed to stop waiting for someone to tell you who you are and decide for yourself? Take out a pen and paper and decide today!
This an excerpt from Stop Blaming God or the Devil for Your Mess, available on Amazon via Kindle for only 99 cents!
Share
One of the first things most people decide to do when they set out to look and feel better is reduce their sugar intake.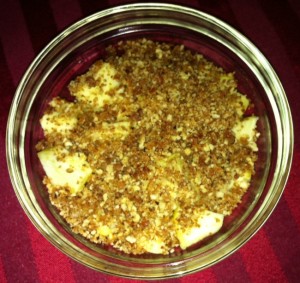 I don't know about you, but I have a sweet tooth and going completely no-sugar is tough. And honestly, I didn't do that. What I did do, is start replacing some of those unhealthy choices with healthier ones. Here's a recipe I love that is fast, easy and a healthy alternative to grabbing a bakery item.
In a food processor, finely chop the following:
A small handful of pecans 1 date (optional) dash of salt (optional) dash of cinnamon
Now, put some of your favorite fruit in a bowl… like chopped apples, strawberries, blueberries, etc. Top the fruit with the nut/date mixture.
If you have a little extra of the topping, save it. You can also put it atop a fruit smoothie. Yum!
Get my Free Audio: Create Your Amazing Body – Look and Feel Fantastic!
Share
Your weight affects every interaction you have with yourself and others. In your business it determines what photos you put on Facebook, whether you feel comfortable making videos or not, being on stage, leading a retreat, or even putting your pictures on your website. Personally it impacts your dreams, traveling, sex, relationships, and basically showing up for life!
The only way to eliminate the excess weight and maintain a healthy, vibrant body is to get down to the root of WHY you're hanging onto the extra pounds. If I were to give the root issue a name, I'd say it boils down to one main thing for most people. Find out what that is in this FREE Audio, "Create Your Amazing Body – Look and Feel Fantastic."
Share
For those of you on my "How to Create Your Own Amazing Body" call today who are interested in my ongoing mentoring and accountability program, here is the link for that.