Share
For those of you on my "How to Create Your Own Amazing Body" call today who are interested in my ongoing mentoring and accountability program, here is the link for that.
At Christmas, during my Crazy Christmas Challenge, I made a silly video of me dancing in my bedroom to Sara Bareilles' "Little Black Dress." I was shocked when my sisters told me it was the most inspirational thing they'd seen. What? I've been trying to inspire people for years and THAT was the most inspirational thing they'd seen me do? Too funny!
Read the rest of this entry »
Share
Listen to this Post:
From the time I started my business 23 years ago, I have been richly blessed with a collection of beautiful, talented and good-hearted people: customers who turn into friends, colleagues who transformed into confidants. 
Connected, supportive relationships form the foundation of an amazing life.
Sometimes people tell me they've been badly burned in relationships, had their hearts broken, and struggle to know who to trust. I can honestly say that I could count on one hand the relationships in my life that have gone sour. In fact, it wouldn't even take all the fingers on that hand.
Those troubled connections were formed before I learned important lessons about relationships. 
The Relationship Model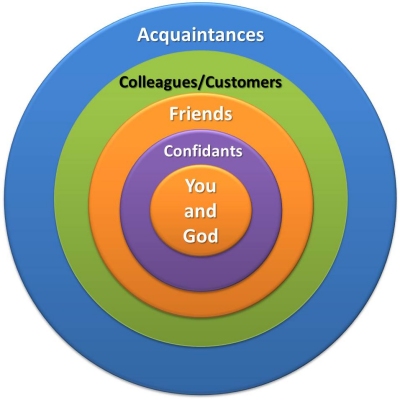 Napoleon Hill talked about how we have levels of relationships extending like concentric circles around us.  A good understanding of this model helps you keep relationships healthy. Here's how it works. 
Acquaintances: The people in the outer circle are acquaintances. You're nice to them, but you don't open up as much of your heart with them. They don't get as much of your time or energy.
Colleagues & Customers: The next closest circle is people who have earned their way into a closer relationship with you. They get a little bit more of your energy and time.
Friends: Your friends and associates are next. They get a bit more of your heart, energy and time.
Close Friends: In the next circle, you have those who are your closest friends, loved ones and confidants.  You share the most with these people and they have more of your heart, time and energy.
You and God: Finally the innermost circle is just you and God. Nobody else goes inside that circle. There are things that you don't share with anyone but God. You keep this space sacred.
The biggest place I see people mess up is giving outer circle people, inner circle privileges. In other words, we're giving people greater access to our hearts, time and energy than they have yet earned.
But how do you decide who to let into your inner circle? First of all, they earn their way in in some way. But even then, the fact is two perfectly good people can make a mess when they're together.
The biggest lesson I learned was to delineate the people I click with versus those I'm probably going to clash with. By identifying the difference early, I can keep the potential clash relationships in my outer circle. Through time and trust-building, I bring the people I resonate with into my inner circle.
Trust any warning bells that go off in your mind. If something tells you a relationship feels off, there is a problem.  Either address it and work it through, or take the signal as a clue not to pursue that relationship at a deeper level. Keep the individual in an outer circle, be nice to them, but give them less of your time, heart and energy.
By learning to identify the people with whom you resonate and building relationships of trust with them, you can forge a strong circle of close confidants who support you through any challenge.
Jane Austen described so well the way I feel about my inner circle of friends:
There is nothing I would not do for those who are really my friends. I have no notion of loving people by halves, it is not my nature." (Northanger Abbey).
I'm so grateful for the amazing people God continually sends my way… especially those who have impacted me so significantly that my life pivots around their entrance into my life. Whether we still stay in contact a lot, a little, or rarely, I love them still and always will.
I'll be talking more about how to build your circle of supportive relationships in my next "How to Create Your Own Amazing Life" Workshop. Sign up by the end of today (Valentine's Day) and you'll also get 4 of my Southern romance novels just for fun! Click here for details.
Share
I'm sharing the LOVE this Valentine's week by giving away 4 of my Southern Romance novels (kindle versions) when you sign up for my "How to Create Your Own Amazing Life with Sizzling Relationships" Workshop.
That's
- Angel and the Enemy - In Love We Trust / Second Sight - Binding Ties - Rebecca's Reveries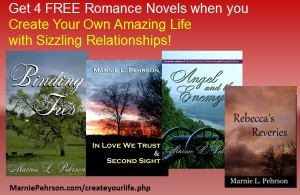 If you're ready to have your hope rekindled, the spark back in your life, and enjoy relationships that sustain and support you, please join me for my upcoming workshop:
"How to Create Your Own Amazing Life with Sizzling Relationships!"
Act by midnight PT February 14th to get your free kindle copies of these popular novels. Enjoy the love!
Share
As of February 1, 2014, all of my business activities are focusing on supporting Christian Entrepreneurs. This has been met positively by many, but there has been one question raised at least twice… once by a Christian and once by someone who doesn't consider herself a Christian.
Question: Now that you're focusing on supporting Christian entrepreneurs does that mean you will ONLY be promoting Christians?
Short answer: NO.
Long answer: There are three objectives to the Light the World Movement:
1. Support Christian entrepreneurs in strengthening their connection with God, themselves and each other so that together we can prepare this planet for Christ's coming.

2. Build a community of Christian entrepreneurs to network with, learn from and support one another in being the lights we're here to be.

3. Bring educational resources and tools to Christian entrepreneurs so they can be more successful in their businesses and thus reach more people.
While the language, illustrations and principles I use will be Christian friendly, those who are not Christian can still benefit from what I teach. If they are comfortable with my language, they are always welcome.
I'm focusing on Christian entrepreneurs so I can
be more myself,
share from the heart and
delve deeper into spiritual principles that bring God's power into our lives and businesses.
When it comes to objective three, I want to make it clear that I will continue to introduce experts to my audience who are NOT Christian.
Why? Let me explain…
In the last 18 years in business, I've met the most amazing individuals from diverse beliefs and backgrounds. Some are Christian, others are not. Many of my dearest friends and colleagues would not call themselves Christian. I have learned an immense amount from these people. Priceless treasures of wisdom and practical knowledge have been imparted to me by them. They have stood by my side through thick and thin. They are wonderful people with value to offer. I'm excited to introduce them to my community.
God loves them, and I love them. Someone's religion or belief system has never been a factor in determining whether I feel the call to befriend, promote or associate with someone. Their value to God, to my audience or to me is not filtered through a sieve of their spiritual beliefs or religious allegiance.
I stand by the motto, "Truth is truth where ever we find it."
If you're a mature individual who has learned to search diligently in the Light of Christ to discern truth wherever it may be found, then you will appreciate what I'm offering.
If you're a Christian entrepreneur who is teachable and open minded you'll like it here. If you enjoy exploring ideas and philosophies that are outside the box, can glean what rings true, and release what doesn't, then you'll enjoy my community.
My Soap Box
We can't be the light of the world with a basket over our heads. We can't be the salt of the earth if we stay clumped in our churches.   The entire premise behind the Light the World Movement is to unite good people who are sharing liberating messages with the world. Light Bearers can be from many beliefs and backgrounds. Just because I have decided to focus on assisting Christian entrepreneurs (because I can dive deeper into the power available to us through Christ), does not mean I intend to alienate a large group of individuals who do not consider themselves Christian, but who have value to offer.
Christian entrepreneurs need to know how to create information products, market themselves, write marketing copy, express gratitude, sell, navigate change, learn to be leaders and a myriad of other skills.
Imagine for a moment that I decided to only focus on helping plumbers build their businesses. They need help with accounting, marketing and copywriting. Would everyone I brought to them for educational purposes have to be a plumber? Certainly not!
I have a powerful network of individuals who can help my audience do those things. They are good, honest people who offer value. They are the cream of the crop. They have the right to worship God according to the dictates of their own consciences … or not. I claim the same privilege and honor your right to believe as you wish as well.
If we want to take this world in a positive direction, good people have to start working together. It's time we stopped judging others, opened ourselves up to multiple perspectives, and learned to discern truth by the Spirit.
The heart of my message is that we MUST learn to live by the Spirit. We must let go of anything in ourselves that obstructs it. With the Spirit, truth is obvious.
Not every business idea is one you should implement — even if an expert teaches it. Not every spiritual philosophy is one that you'll need to implement either. You must let the Spirit guide you toward what is right for you.
I invite the honest in heart, who stand for freedom, love and light to come together in effecting positive change on the planet. With God's power working through us, this world can be healed…. This is the Light the World Movement and what IgnitePoint.com is all about. If this resonates with you, please join us!
Share
Who hasn't dealt with the ups and downs of marriage and family life? Inside the family we find our most exquisite joys, but also our most poignant moments of pain and ongoing frustration. It's so easy to mess up these relationships! Nobody gets a rule book when they walk out of their marriage ceremony and start a family … that is until now!
12 Weeks to Greater Peace, Joy and Love in Your Family is the ultimate family guidebook to transform challenging relationships into loving ones. With over twenty-seven years' experience in marriage, parenting and child development, energy healing practitioner and parent consultant Jennifer Jones Smith offers simple, yet profound wisdom on these essential topics:
* Empower yourself with greater self-love, self-compassion and confidence. (Remember peace on earth and in the family begins with "me.")
* Infuse love, joy and respect into your marriage and family relationships.
* Increase harmony among your children and success with chores and homework.
* Transform the feeling in your home by building unity with an uplifting environment.
This empowering, 5-Star review, self-help book is written in a clearly outlined form. Jennifer and parent contributors share heart-felt stories that apply to us all. Mantras and specific assignments help readers connect with their own affirmative life force. This is an indispensable resource for every family library. Let this book infuse your family with greater peace, joy and love in as little as 12 weeks!
For purchasing the book 12 Weeks to Greater Peace, Joy and Love in Your Family on Amazon launch day – February 5th, 2014, you will receive $160 in bonuses which includes a downloadable companion workbook and a 3 month membership in the Whole Heart Family support group on Facebook.
Another incredible bonus is the Whole Heart Family Telesummit which includes 6 expert speakers who will address topics to reduce the pain and frustrations in your family and marriage relationships. You will receive the bonuses when purchasing the book on Amazon on February 5th and then visiting this link http://myheartfelthealing.com/bonus.
Praise and endorsements for "12 Weeks to Greater Peace, Joy & Love in Your Family"…
Life pulls our attention in so many ways. Sometimes the most precious parts of our lives, like our family, need a little more focus and effort. This heartfelt guide offers powerful wisdom and tools to bring greater peace, joy and love to your family. ~ Leslie Householder, award winning, bestselling author of The Jackrabbit Factor
One of the biggest sources of joy and of pain in our lives is the relationships within our marriage and family, and it's so easy to mess it up… In this book Jennifer Jones Smith offers practical and valuable insights to create the relationships you desire and deserve. ~ Gerald Rogers, Author & Speaker
Share
I've been advising entrepreneurs to be themselves for years. It's a fantastic marketing strategy. Most likely there are hundreds, if not thousands, of people doing the same work that you do in the world. What makes you stand out is YOU! The more YOU that you can be. the better.
This isn't only true of attracting and forging strong customer bonds. It's also a true principle for fostering other types of relationships whether they are in our families, in friendships or in romantic relationships. Being fully and authentically you takes less energy and insures that you're bringing the people into your life who are best for you.
Now that I've said that, I'd like to clarify one thing. Being YOU does not mean you have no need for self-improvement. It doesn't mean that you can keep all your bad habits, annoying behaviors, dishonesty or lazy tendencies and attract good things into your life.
As James Allen said, we do not attract what we want. We attract what we are. If you want to improve your relationships, improve you. You might say, "Well, Marnie, you're telling me to be someone I'm not. This is just the way I am." I don't believe that's true. I believe that at the core, each of us are divine beings of light with unique talents, strengths, and potential.
Anything that is less-than-ideal (say a bad habit), is simply a black blob on your glowing ball of light. It's a foreign object. Remove it, and you'll glow all the brighter. The brighter you shine, the more high quality, supportive and radiant relationships you'll attract.
Remember, the real you is a glowing ball of light. So I'd like to modify my initial advice to "The more you can be your highest and best self, the better."
The thing is, we all have black blobs, and we always will. Removing them has been a quest of a lifetime for me. In fact, when something presses my hot button (let's say someone says or does something and my reaction is instant anger, irritation, or depression), the first thing I realize is that I've just run into a black blob on my glowing ball of light. This is a chance to self-reflect and ask myself,
What is this about? Why am I reacting this way? What in me is less than light?"
Once I identify the root cause, I can remove it. From that point forward, my reactions to similar stimuli change.
3 Tools for Identifying and Removing Black Blobs on Your Glowing Ball of Light
I use three primary tools to help me identify black blobs and remove them.
I ask myself questions. After some self-reflection time, the answers will often surface. It helps to review your life for other times you had a similar reaction. The pattern you observe can help you identify the cause. Acknowledging the root cause and why you're reacting in that fashion, can create a shift and release the negative energy. I specifically ask God to take it away, and He does!
Becoming certified in Carolyn Cooper's SimplyHealed MethodTM has been priceless in helping me quickly identify and energetically remove the root of black blobs in myself and others. It's fast, painless, and simply. The great thing is it doesn't require digging back through the trash heap and stirring up old memories or inflaming old wounds.
Get a second set of eyes on the subject. I either enlist the help of a friend or fellow energy worker. For example, I have a good friend whom I trust implicitly. She's been my honest, compassionate sounding board who is willing to help me identify my black blobs. In fact, the other day we spent a couple hours on the phone, each of us sharing our concerns and helping each other identify false beliefs or old patterns, remove them, and craft positive replacements.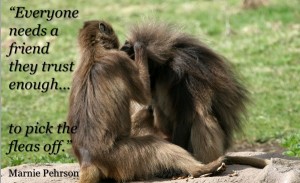 At the end of the call, I said, "We're like two monkeys picking the fleas off of one another." She cracked up and admitted it was true. Everybody needs a friend they can trust enough to pick the fleas off. I hope you have one!
Please remember, you are a glowing ball of light and love. That is who God created you to be. Any action, reaction or habit that is less than that is simply an indicator of a black blob. Identify and remove the black blob and you'll shine all the brighter. The brighter you shine (the more YOU you are) the more beautiful, loving, kind and supportive relationships you'll draw into your life.
If you're ready to forge an amazing life filled with these types of rejuvenating relationships, please join me for my next How to Create Your Own Amazing Life Workshop. I'll specifically be teaching you how to attract connected, loving relationships that support and encourage your dreams.
Share
I have a dream for 2014, and I wonder if you might be interested in helping me fulfill it. Perhaps it aligns with your dream as well.
Here it is…
Mobilize 2,014 Christian entrepreneurs to ignite their lights in 2014.
Imagine the combined effect of 2,014 Light Bearers fully connected to God's love and light, tapped into inspiration, acting daily upon that guidance, and broadcasting good in the world! The potential impact is staggering!
Will you be one of us? We can light up the world, but first we must ignite our own lives. Let's do it together in 2014!
If you or someone you know would be interested, details are here.
Share
Are you feeling like it's time to make an impact? I know I am, and that's why I've set a goal to mentor 2,014 Christian Entrepreneurs in 2014.
Will you be one of them?
If you or someone you know are interested in shining brightly and making an impact in 2014, my Ignite Your Light Illumination System could be the solution for you. It's never been more affordable or simple to work with me.
Click here to find out more.
Let's light up the world together!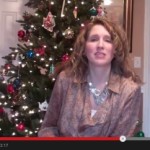 Share
For my final video in the Crazy Christmas Challenge, I slow things down a bit, get serious and share what Christmas means to me.
Now it's your turn. Please post below what Christmas means to you. I'd love to hear!
God bless & Merry Christmas!