A few months ago I was collaborating with someone on a fun project. This was no ordinary project. It was one that could affect the trajectory of my life. We were excited and had lots of energy and passion about the idea. My fellow collaborator and I could see the end quite vividly. We began brainstorming and having conversations about the details and were jazzed about the possibilities. Honestly, we were having a blast. I hadn't had so much fun in years. We were both so engaged with the idea that we barreled forward like a freight train.
Yet, in the back of my mind, occasionally there would be a niggling doubt, a feeling like perhaps this wasn't the ideal person for me to be working with on such a project. There was nothing wrong with the person that I could see, but if I was going to collaborate on this level, there needed to be a lot of compatibility. Something just felt off. But I pushed that aside because there was so much that was right. We could see and visualize so many possibilities together, that I ran forward, fueled by my enthusiasm.
Then one day, we hit a little snag in our plans — nothing big, just a bit of a disappointment. We both stepped back from the situation and from our interactions with each other. It took me no more than 24 hours of stepping back to realize that this collaboration wasn't going to work. I experienced an overwhelming knowing that this wasn't the right project, the right person, or the right time. The interesting thing is, the other person received the same clarity of insight, and we amicably went our separate ways.
I asked myself, "How could we both be so engaged, interested and excited about something and then lose interest literally overnight?" I think sometimes our own emotions and passions become so intense that hearing the subtle whispering of the Spirit is like trying to taste a piece of bread while eating a jalapeño.
For me, in this experience, the whispering of the Spirit sounded like occasional doubts, uncertainties, or a feeling that I was missing some important information. In my excitement for the project, I had begun filling in pieces to the puzzle with my own imagination, without waiting to fill them in with facts or a better understanding of my collaborative partner. I was making a lot of assumptions, but deep down, my spirit knew I was filing in gaps. My spirit knew there were compatibility issues that would cause us problems down the road.
What did I learn from this situation? Lots of things. The lesson I'd like to emphasize here is the power and perspective obtained by stepping back from a situation. If you're heading down a road that feels fun and exciting but you have some reservations, step back. Stop eating the jalapeño long enough to taste the realities of the bread.  When you do, you'll either decide you're on the right track or it will become obvious that you aren't.
Thank heavens the creative process isn't instantaneous. If it was, we'd all create a lot of things we really don't want in life!
Honestly, in my situation, I believe God intervened. He wasn't going to let me make a decision that would adversely affect the trajectory of my life. Stay aligned with God; listen to the little warning signals. Pay attention to the counsel of friends who love you and see things you can't see. Step back, take your time. There is no hurry on the creative plain.
Have you ever had a similar experience with stepping back?
Have you ever felt a burst of enlightenment, a feeling of certainty that you need to travel a different path or pursue a particular goal? As you embark on your journey toward your goal, things start to fall apart. You meet one obstacle after another. You begin to doubt whether you heard right. Maybe you made a mistake.
Was it really a mistake? Probably not. The thing is, any big goal or dream requires something of you. If you were currently capable of receiving the objective, you would already have it in your possession. Because it's something "out there," it's going to require some kind of adaptation or evolution on your part. A realignment of actions, thoughts, perceptions, energy or habits is required in order to receive.
This means there are going to be challenges or hurdles. You'll need to flex muscles you haven't used before. You may need to develop skills you don't currently possess. Or it may require a different level of thinking than you've had in the past.
All of this feels like you're being blocked or told that you're going the wrong direction. This may not be the case at all. If it felt right when you prayed about it and felt peace about it, most likely it is still right. Rather than assume you're on the wrong path, ask yourself a different set of questions. Try some of these: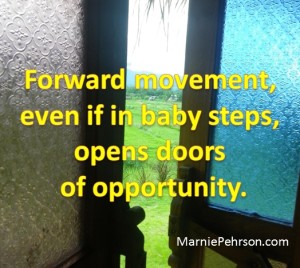 What would I do now that I wouldn't have been willing to do before?
What am I resisting? What if that is the very thing I need to do?
What new way of thinking is this causing me to adopt?
What if all of this is for a reason?
If I look at this through the eyes of a loving heavenly Parent who is trying to help me reach my highest soul fulfillment, what do I see?
What would I do if I wasn't afraid?
What would I do if I let go of what other people think of me?
What would I feel and do if I trusted God completely and knew that all of this was going to work out for my highest good?
If I could create my ideal solution to this challenge, what it be? What would it look like? Feel like? Describe it in detail. Now, create it! Think it. Speak it. Move forward with whatever you know to do on it.
Act where and how you know to act, even if those steps are tiny. Forward movement, even if in baby steps, opens doors of opportunity.
What questions have you found helpful to ask yourself or God when things aren't working as you expected them to?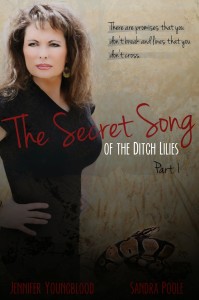 I had the opportunity to interview my good friend, Jennifer Youngblood, about her bestselling novel, The Secret Song of the Ditch Lilies
. I LOVE, LOVE, LOVE this book. Nobody captures the South quite like Jennifer Youngblood and her mom Sandra Poole.
The cool thing about this book is that it's loosely based on Jennifer's upbringing in Alabama. If you've ever thought of writing a book based on your own life, be sure to get your copy of The Secret Song of the Ditch Lilies (Part 1): A Southern Romantic Suspense Novel
.
In my opinion, it's a masterpiece. Enjoy!
In this episode of the "Marnie and Sue Peep Show" (where we pull back the curtains on our online businesses) Sue Painter and I talk about
how to pre-qualify your prospects
why it's good to have a client avatar (aka ideal customer description)
and the myths and realities of creating a "lifestyle business."
Be notified of upcoming shows and receive show notes. Subscribe to our updates:
In Episode 4 of our Online Business Reality Show, Sue Painter and I give you a look behind the scenes in our online businesses. This episode talks about
- Titling your book
- Reinventing your business
- How to bring in quick sales
- and more!
Be notified of upcoming shows and receive show notes. Subscribe to our updates:
I once knew a woman who was very driven to succeed in her network marketing business. She decided to devote the next three years of her life to her success. She worked all hours of the day and night and insisted her team do the same. If her team didn't attend sales meetings until 3am, she'd refuse to support them anymore. She decided she would put everything but her business pursuits on hold for three years. Then she'd retire. She was goal driven and focused, and she knew she would succeed.
Her husband and her children took a backseat to her goal of success. She was excessively hard on her team and even began cutting corners and violating ethics to ensure she was a top performer (or appeared to be). By the end of the three years, she was divorced, had lost custody of her children, and lost her business due to unethical dealings. In fact, her name was completely blotted out of the company with which she had worked.
In my mind, she became the poster child for what it means to create one's life without checking in with God. She became the supreme example of trying to create abundance on the competitive plain. She constantly "pushed the rope," and that rope transformed into a noose.
I believe as children of THE CREATOR, made in His image, we are born creators. We can create our lives on our own, pursuing selfish, self-gratifying and vain ambition. We can do this by stepping on others, forcing our will onto others, or by manipulating and controlling (aka force).
Or we can amble through life without any goals or objectives. As the Cheshire Cat told Alice, "If you don't know where you're going, any road'll take you there." And "there" isn't always the best location.
Most people choose something between these two extremes.
I am an advocate of having goals and dreams, but I believe for best results, we co-create them with God. We step out of the competitive plain onto the creative plain. We check in with God to make sure the aspirations we set for ourselves are in alignment with our highest purpose and soul fulfillment.
Then we
- set clear intentions,
- ask for assistance,
- take inspired action,
- operate from gratitude, and
- allow the co-creation process to take place.
What do I mean by co-creation? I believe nature is friendly to your plans when you operate from your highest purpose. Angels, Spirit and the intelligent matter of the universe line up on your team to help you achieve your objectives. The right people will be introduced to you at the perfect time. The optimal resources will be made available to you. The appropriate doors will open for you.
But you must be willing to set a clear intention, ask, listen for a confirmation that you're on path, and take inspired action. Action is critical. As Wallace Wattles wrote in 1910: "By faith the thing you want is brought to you and by action you receive it." Do all you know to do. Reach toward God's reaching, but never force, manipulate or control.
If you are honest with yourself, if you have integrity, what you want is what God wants for you. The powers of heaven are on your side.
But remember the powers of heaven can only be activated upon the principles of righteousness. When we undertake to cover our mistakes, to gratify our pride, our vain ambition, or to exercise control or dominion or compulsion upon other people or upon the elements of the universe, in any degree of unrighteousness, the heavens withdraw themselves; the Spirit of the Lord is grieved. And when it is withdrawn, we are left to ourselves – to push that rope.
Stop back by for my next entry… I'll be talking about what to do when things don't fall into place, when doors seem to slam in your face when you feel certain God told you to travel the path you're traveling.
My friend Sue Painter and I recorded a new episode of our "Online Business Reality Show" while we were together at NAMS in Atlanta:
Here's what we talk about in this 16 minute episode:
* What you can gain from attending a live event

* Why you should NOT attend every single session

* How to be client attractive

* Whether to fall for the pitches to buy products and services that are made from the stage at live events.
To receive notifications of our upcoming episodes, please fill out the short form below:
It's the small, ordinary moments of choice that determine our destinies. You know what I mean – something whispers,"do this" or "don't do that." Betray yourself by ignoring those nudges and the biggest messes usually follow. Listen and act on them, and doors of opportunity open. Good things follow.
One of those moments occurred for me 24 years ago when I felt the nudge to start my own business instead of getting a job outside the home. Good things followed – treasured friends, priceless knowledge, and an abundance of self-growth, fun and prosperous experiences.
On the other hand, I ignored one of those nudges several years ago because I was too scared to rock the boat. I'm still cleaning up the mess. What I wouldn't give to go back in time and make one little choice differently… allow some momentary discomfort to avoid a world of hurt.
Yes, it's those small moments of choice that reap our destinies. I hope you're listening to that still, small voice. Out of small and simple things are great things brought to pass…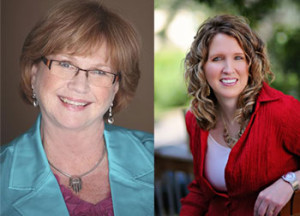 The online marketing landscape is changing. Anyone who's been in business online for any length of time knows that what worked yesterday isn't working as well today. Technology is always changing and there are new tools and resources available.
It can be tough for entrepreneurs to keep up with it all. What REALLY works for small business owners TODAY? And what do small business owners really think of some of the deals they are offered by other internet marketers?
Sue Painter and I love to chat on Facebook about what's working in our businesses, what has been a total failure, and how we really feel about life and work. In a conversation last week we decided to take it public – ALL of it. Welcome to the Marnie and Sue Peep Show – two successful internet marketer's unscripted chats about the good, the bad, the ugly and the sad of being a small business owner.
In our first video chat we talk about:
Whether participating in collaborative books is worth it.
Why we think live events and social media can help you grow your business.
How to keep from being so hard on yourself and how we make self-care a priority.
What's is it like to see your multiple six-figure business literally disappear overnight due to a change in Google? (This actually happened to one of us and you'll hear about it in the first Peep Show episode. 
We're brutally honest, pulling back the curtains and chatting for 15 minutes to half an hour every week. No holds barred. And we'll answer your questions, too, by the way.
Want to play? Here's where you go to register and we'll send you a time each week when you can join us live. If you can't make it we'll send you the link to watch later, too.
Yum! Here's one of my favorite summer sandwiches…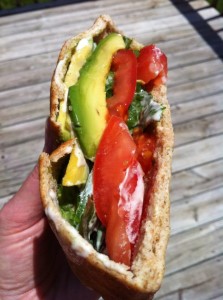 avocado
tomato
cucumber
lettuce
baby dill (optional)
on a wheat pita
with a smidgen of Ranch
Create Your Amazing Body! Join me for my workshop here.