Attention: Holistic Practitioners, Light Workers, Healers, Consultants and Coaches
"How To Get More Clients, Impact More Lives
And Create More Revenue Online"
Marketing yourself online is one of THE best ways to find new clients and customers. But the technical aspects can be a big roadblock for many right brain, creatives and intuitives. You know you have a gift and something powerful to offer, but all the details and technicalities can be overwhelming.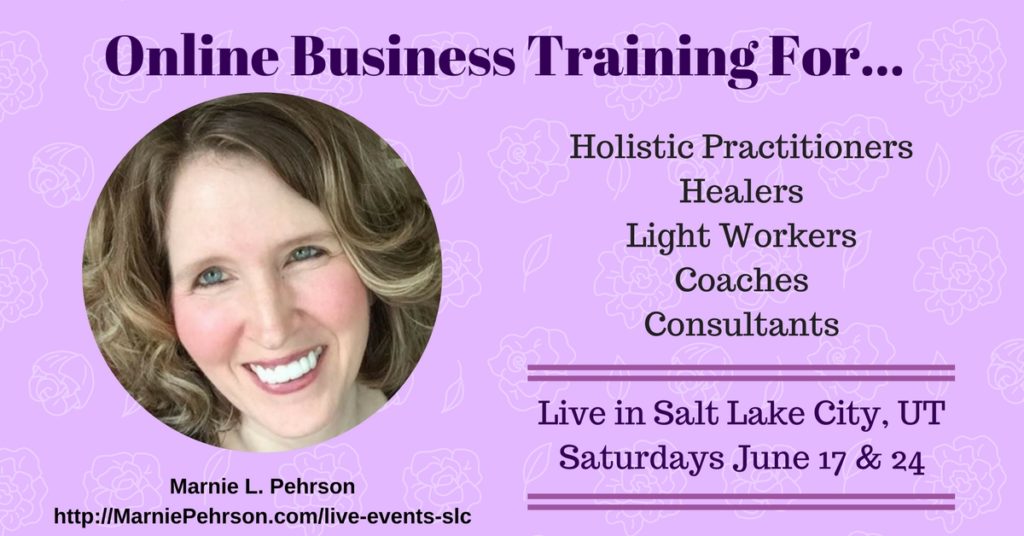 That's where I come in. I'm both an energy worker and a computer trainer with 27 years in business, of which 23 of those have been marketing online. I've published 25 books (nonfiction and fiction) and have multiple Amazon best sellers.
I specifically work with right brain creatives and intuitives, assisting them in implementing simple and affordable solutions to get their messages online and drawing in new customers.
Simplify Doing Business Online In 4 Live Events in North Salt Lake, UT in June 2017
I'll be in North Salt Lake, Utah on June 17 and 24 offering 4 different classes. You may take any or all of them. Just press the add to cart button next to the class that interests you. Or if you want to attend several, notice the link at the bottom to save when you enroll in multiple classes.
Seating Is Limited, So Please Register Early
Note the spots left for each class listed below the class title.
Location
39 Eagle Ridge Dr. #200
North Salt Lake, Utah 84054
"How to Sell More Books Online"
1 Spot Left
Live In-Person Event in North Salt Lake, Utah. Saturday, June 24, 9:30 am - 12:30 pm MT
Are you an author, or an author-in-the-making? If so, the online world is a great way to sell books -- if you know what you're doing. I've produced multiple Amazon best-sellers and dozens of my students have followed my system to do the same with their books. In this training I'll be sharing some of my best techniques and tools for selling more books online.
This class will answer important questions like...
How do I integrate marketing into my book before it goes to print?
How do I get other people to promote my book to their friends and followers?
How do I use simple tools and social media to spread the word about my book?
How do I use a blog to promote my book?
How do I use video to promote my book?
"Facebook Advertising Basics"
1 Spot Left
Live In-Person Event in North Salt Lake, Utah. Saturday, June 24, 2017, 2:00 pm - 5:00 pm MT
Facebook advertising is one of the best ways to reach your ideal clients and customers online. But, if you don't know what you're doing, you can waste a lot of money and time. In this class I'll be teaching you some of the fundamentals that will ensure that you get the best bang for your buck and are gathering audiences from all your advertising efforts.
In this workshop we'll discuss
What do you need in place before placing your first Facebook ad?
Are your ideal prospects and customers on Facebook? How do you find them?
Pluck the low-hanging fruit. People who are already visiting your web site or watching your videos are the first place to start. Find out how to capture them into a list and send ads to them.
How do you know when to use boosted posts, text ads, or video ads?
What is the best Facebook ad strategy for your business?