Attention: Holistic Practitioners, Light Workers, Healers, Consultants and Coaches
"How To Get More Clients, Impact More Lives
And Create More Revenue Online"
Marketing yourself online is one of THE best ways to find new clients and customers. But the technical aspects can be a big roadblock for many right brain, creatives and intuitives. You know you have a gift and something powerful to offer, but all the details and technicalities can be overwhelming.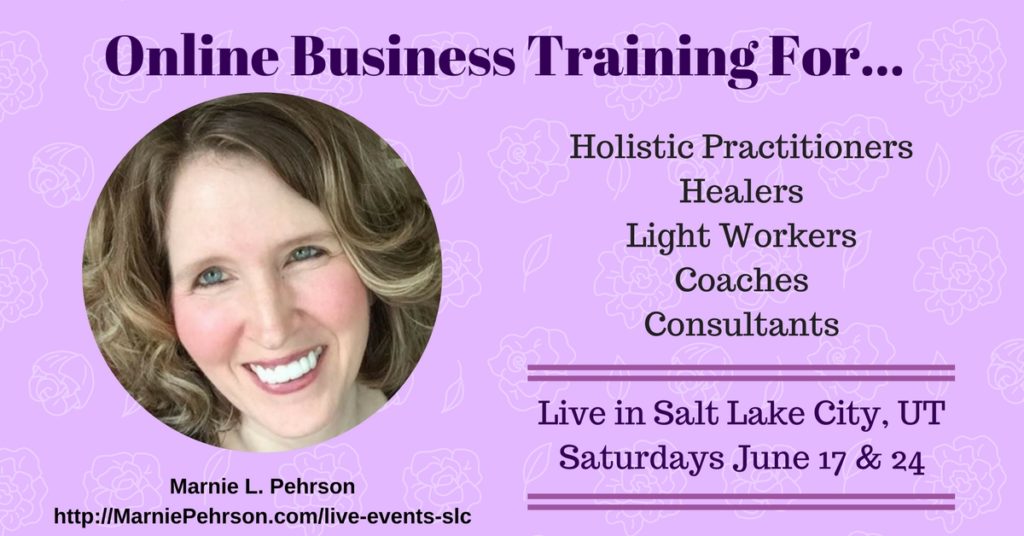 That's where I come in. I'm both an energy worker and a computer trainer with 27 years in business, of which 23 of those have been marketing online. I've published 25 books (nonfiction and fiction) and have multiple Amazon best sellers.
I specifically work with right brain creatives and intuitives, assisting them in implementing simple and affordable solutions to get their messages online and drawing in new customers.
Simplify Doing Business Online In 4 Live Events in Salt Lake City in June 2017
I'll be in Salt Lake City Utah on June 17 and 24 offering 4 different classes. You may take any or all of them. Just press the add to cart button next to the class that interests you. Or if you want to attend all four, notice the link at the bottom to save when you enroll in all four.
Seating Is Limited, So Please Register Early
With the facility I have booked now, there is only room for 8 people per class. So please register early if you intend to come. If I get enough demand in time to get another facility, I will do so... as long as it's not too late.
"Turn Your Troubles Into Thought Leadership:
How to Create an Online Business Around Your Message"
Live in-person event in Salt Lake City, Utah, Saturday, June 17, 2017 9:30 am - 12:30 pm MT
Have you been through something difficult and now have ideas, insights, methods and breakthroughs to share with the world? If you have a deep desire to help others through what you've been through, this class is for you. We will explore your message and how it can successfully be delivered online using various methods.
"Simple Systems for Holistic Entrepreneurs and
Light Workers to Succeed in Online Business"
Live in-person event in Salt Lake City, Utah, Saturday, June 17, 2017 2 pm - 5 pm MT
"Web sites, auto responders, sales pages, oh my!"  If you're not sure what you need to get your business going online with clear and automated systems in place, then this training is for you. I have identified the simplest and most affordable ways to get your business online so you can start bringing in new clients and customers. You don't need expensive shopping cart systems or fifty instructional classes to make it happen. I'm going to give you the shortest route to successfully getting the tech stuff covered so you can do what you do best!
"How to Sell More Books Online"
Live In-Person Event in Salt Lake City, Utah. Saturday, June 24, 9:30 am - 12:30 pm MT
Are you an author, or an author-in-the-making? If so, the online world is a great way to sell books -- if you know what you're doing. I've produced multiple Amazon best-sellers and dozens of my students have followed my system to do the same with their books. In this training I'll be sharing some of my best techniques and tools for selling more books online.
"Facebook Advertising Basics"
Live In-Person Event in Salt Lake City Utah. Saturday, June 24, 2017, 2:00 pm - 5:00 pm MT
Facebook advertising is one of the best ways to reach your ideal clients and customers online. But, if you don't know what you're doing, you can waste a lot of money and time. In this class I'll be teaching you some of the fundamentals that will ensure that you get the best bang for your buck and are gathering audiences from all your advertising efforts.